Welcome to the Soup Lunch
St Michael's Soup Lunch takes place, in the Church Hall, on the first Friday of every month, unless it's a Bank Holiday.
Getting the hall ready for our 'Coronation Special'.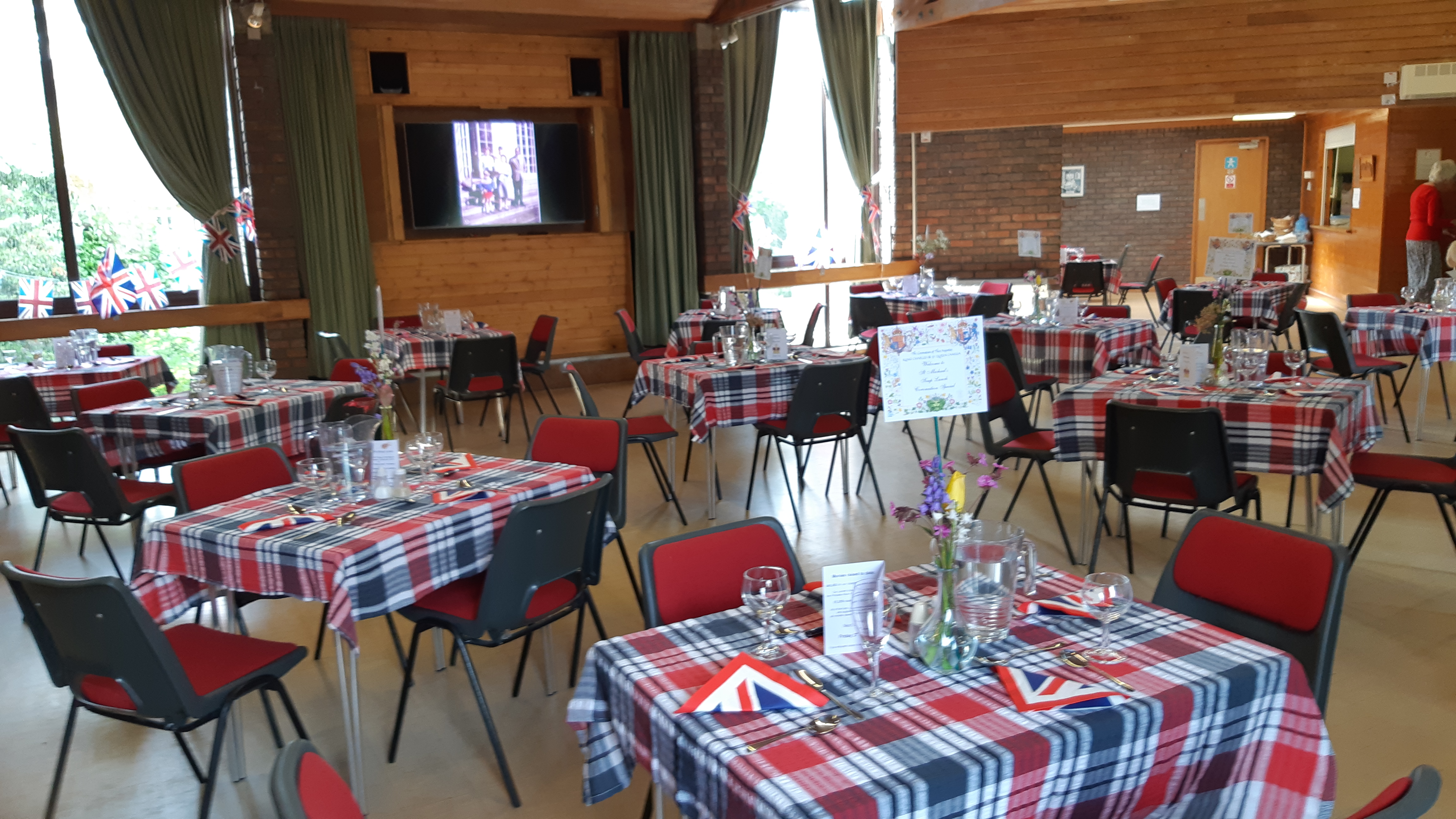 The Ashtead Rotary Club gave the Soup Lunch an award for Service to the Community in 2014, in recognition of its efforts to provide a welcoming, caring, comfortable environment for all denominations, ages and abilities.
All are Welcome
What's the big deal?
The Soup Lunch has been operating in its current format since June 2011. The menu comprises a choice of three soups, with two vegetarian options, assorted breads and a choice of three desserts, tea/coffee; all for a suggested, cash, donation of £6. All the soups, bread and desserts are homemade and supplied for free by members of the Soup Lunch Team.
Our Homemade Stall
A table of homemade goodies, with an honesty box is at the door entrance/exit. The goodies are supplied either by the Team or anyone willing to donate cakes, biscuits, breads, marmalades, jams, garden gluts, craft items etc.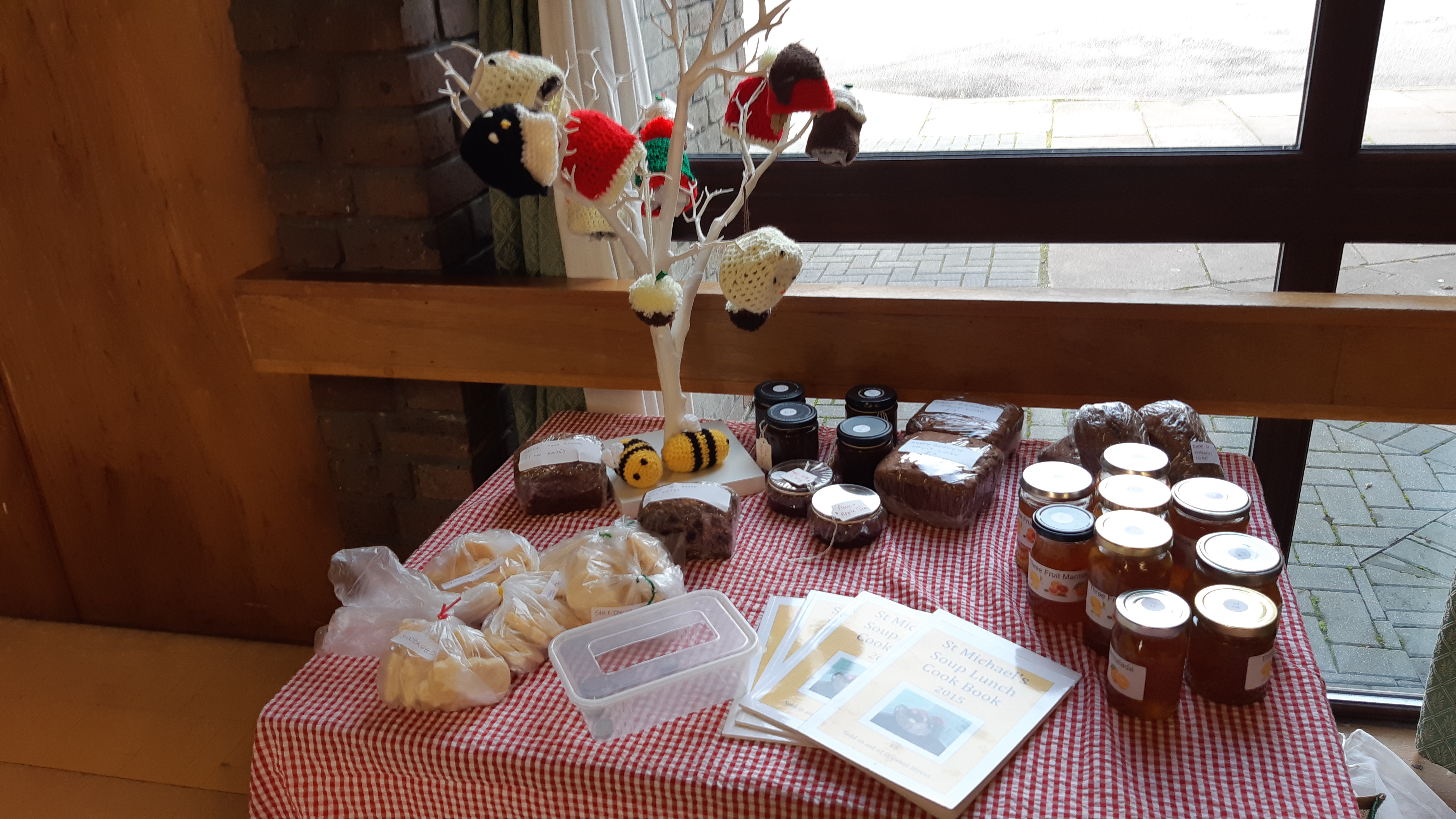 So you needn't go home empty handed!
It's a Giveaway
None of the money collected goes to "expenses", so all the money donated goes to the Soup Lunch Team's chosen charities; at time of writing CAFOD (Catholic Fund for Overseas Development), The Princess Alice Hospice at Esher and Besom (a joint Churches enterprise to support locals housing issues).
Over £40,000 has been raised for charity.
Our Team
The Soup Lunch Team comprises men and women from the Ashtead community. Many have a connection to St Michael's either as parishioners or spouses or friends of parishioners. However, the only requirements for membership of the Team are a willingness to provide, for free, home cooked food, basic supplies, time and enthusiasm.
The Soup Lunch Ladies at the Coronation Special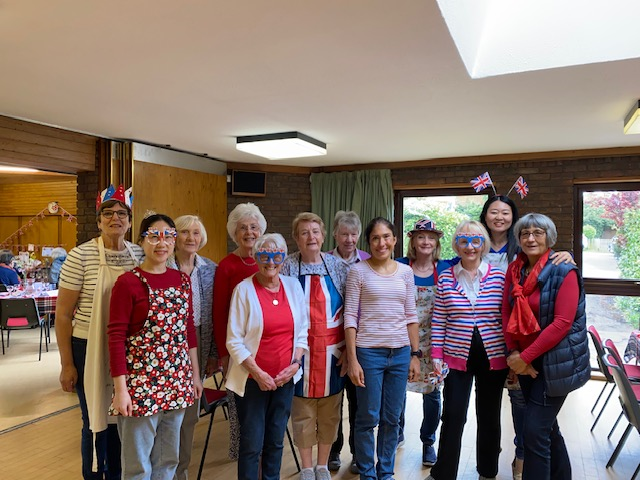 Volunteers are always welcome
Do try this at home
The Soup Lunch Team has published a Cook Book of their recipes, to spread its enthusiasm for home cooking, and to raise funds for Combat Stress, a charity supporting military personnel who are suffering from posttraumatic stress syndrome. The Cook Book is on sale in St Michael's Repository and at the soup lunch.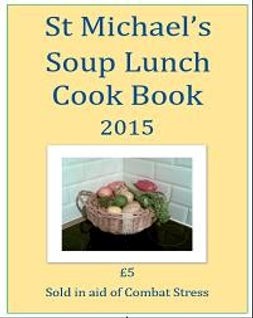 © 2010-17 St. Michael's The Arundel and Brighton Diocesan Trust
Catholic Church is a Registered Charity Number 252878